Active School
Active School Flag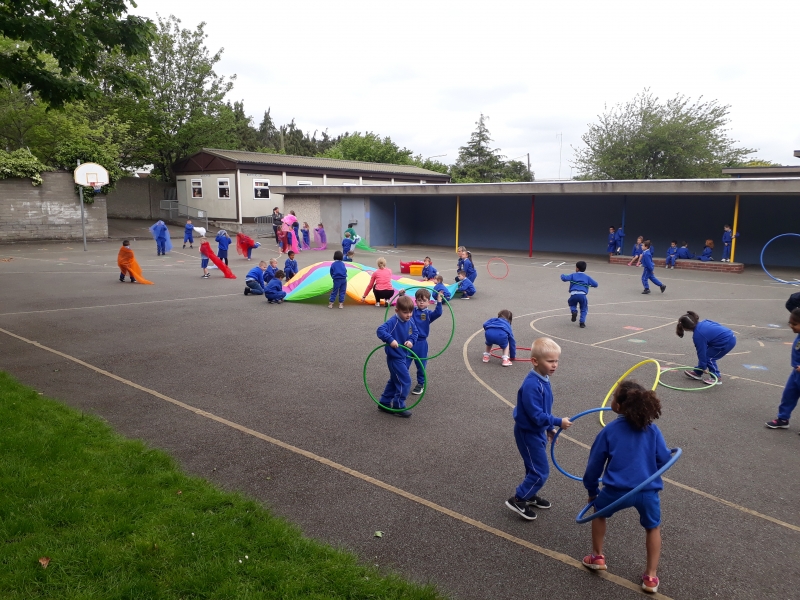 We are very proud of our blue "Active School" flag that flies outside our school.
Our main objective as a school in achieving Active School status was that all of the children in our school have fun and develop friendships while engaging in physical activity on a regular basis. We want our active children to have healthy minds and bodies.
We take part in Active Week every year.
We hold sports days in the summer term.
We are delighted that Jonathan comes every week from Crumlin GAA to mentor our future Croke Park stars.
We hold "Strictly Come Ceilí" every March, following weeks of Irish Dancing Practice.
Every second week our children take part in our "Wake up dancing" initiative. The type of dancing varies from year to year but is always high energy and hugely enjoyable.
We have busy movement breaks in our classrooms.
Every class takes part in 2 PE lessons each week.
We promote walking to school.
We have yard equipment that we use to promote movement at lunchtimes, including; balls, skipping ropes and hula hoops.
We also encourage traditional playground games in the yard with the older students teaching the games to the younger students.
The older girls are involved in basketball competitions encouraging everyone to participate and enjoy themselves!
At afterschool activities the girls from 2nd to 6th class participate in basketball, tennis, badminton and Irish dancing.
5th and 6thclass have taken part in tag rugby tournaments with thanks to Solas.
In the Summer months, every pupil in every class takes part in the "Walk around Ireland" challenge, clocking up miles for their class!

Our Active School Committee meet regularly and are a great source of new ideas and initiatives to keep us active and healthy. Watch this page for regular updates of this year's activities!