Bonnet Bliss!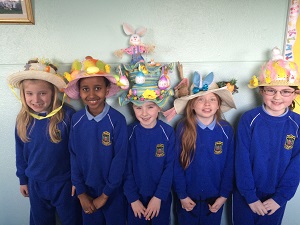 Easter Bonnet Parade
The Student Council proposed that the whole school would get involved in making Easter Bonnets.
Every class worked really hard, and the finished bonnets are wonderfully imaginative, colourful and creative!
We all took part in an Easter Bonnet Parade, so that everyone in school could enjoy each other's bonnets.
The Junior classes then went on a longer parade, to contribute to the ongoing project of our school's Active Flag. Whether a bonnet tells a story, or is a display, or is about one character, or is crafted to be worn a few times, each one took hours of painstaking work & fun.
See if you can figure out what story or character these bonnets are about!!